To the Wild Coast and Beyond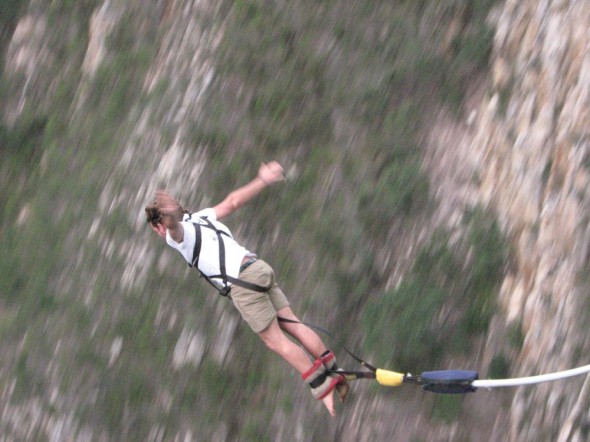 We bade a hearty mountain farewell to Dippies of the Cango Mountain Resort and set off down the stunning Outeniqua Mountain pass. Our next stop was the Bloukrans Bridge where Lachlan bravely did the World's highest bungee jump at 216m. His was the last jump of the day and according to the Face Adrenalin bungy team, also the best with only minimal air swimming – you can judge for yourself on the YouTube video below. Bow Wow and I just watched as we think that bridges are for walking across, not jumping off.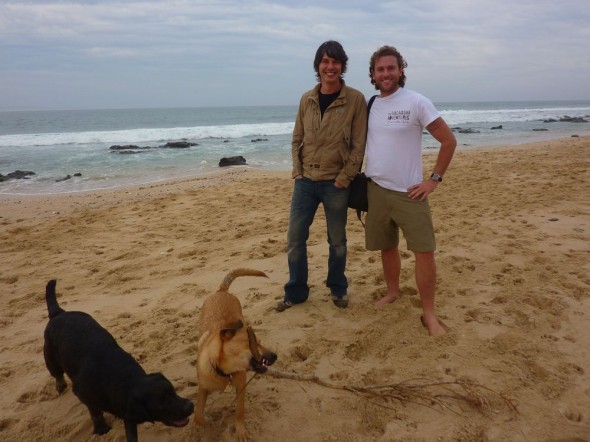 That night we camped by the ocean at one of the World's surf hot spots, Jeffreys Bay. Bow Wow had a gnarly time at Super Tubes beach with some old sea dogs clad in studded collars and sporting dreaded fur. These loyal hounds were waiting for their owners to come in from the waves and took a liking to Bow Wow. It wasn't long before Bow Wow and his new crew of salty surf mutts were tearing along the beach, playing tug of war with seaweed and chasing each other into rock pools and then, much to our amazement, rock star scientist, Brian Cox! The famous physicist was at the beach filming a documentary for the BBC and using the long wave tubes to demonstrate the movement of light. Before we dragged Bow Wow away, we chatted to Brian Cox and he very kindly forgave Bow Wow for disrupting filming and gave us a video endorsement for our trip!
We then made for my South African relatives beautiful farm which is just outside Port Elizabeth. There we were greeted by three generations of the Lake family and Bow Wow met another Suzy, but this one was far scarier than any ostrich. As we tucked into a delicious roast in their elegant dining room and caught up on family news, we could hear poor Bow Wow being chased around the garden, with Suzy the Jack Russell snapping at his heals. It was with great difficulty that we did not intervene. No one said that this trip was going to be easy and the time had come for Bow Wow to man-up.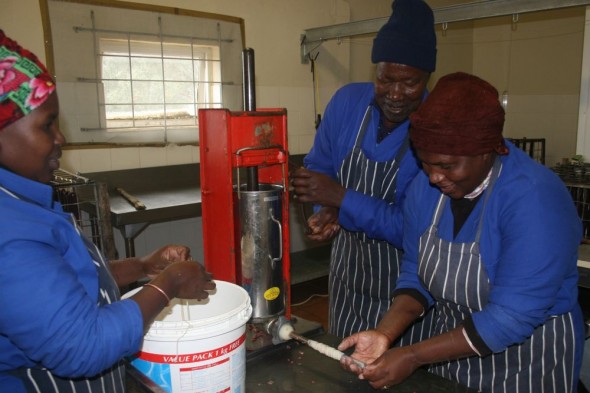 Apart from growing a variety of crops and keeping cattle, the Lakes also produce the most incredible biltong that we have ever tasted. If you get the opportunity, buy as much as you can, it is melt in your mouth delicious. We visited the meat room and watched how the meat is seasoned with salts and spices and then dried slowly using fans. Apparently biltong came about when the Dutch settlers first trekked through South Africa and cured their meat by strapping it under their horses saddles. As they travelled, the meat air dried and was salted by the horses sweat. Lunch on the hoof indeed. I wonder what would happen if we attached some slices of wafer thin ham under Bow Wow's collar…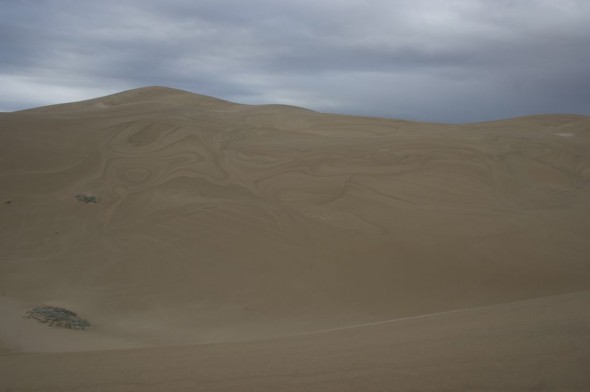 My cousin Mark then drove us around the impressive dunes which belong to the farm and are the largest in the Southern Hemisphere. These dramatic dunes were once home to a nomadic tripe of Khoesaan strandlopers (which means beach-walker in Afrikaans). You can still see evidence of these hardy people in the thousands of broken mussel shells scattered on the sand that the they consumed the contents of over 600 years ago. It was wonderful to introduce Lachlan to some sane members of my family and by the time we were off, Bow Wow and Suzy were firm-ish friends. As a departing gift, Bow Wow even received his own bag of biltong which has helped him to learn an amazing new trick to add to his already impressive array – jumping through a hoop!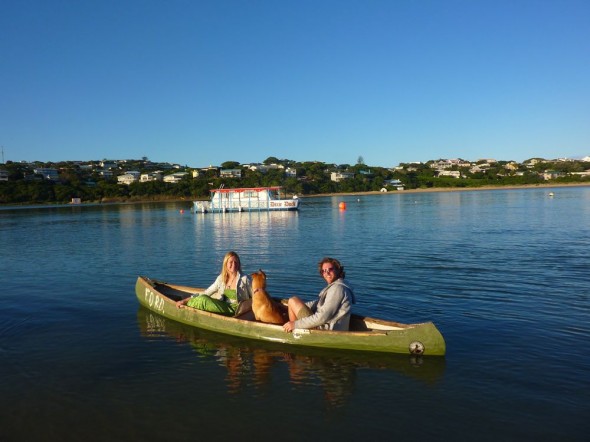 More relies, Hilary and David, had invited us to their lovely home and so we made for the Bushman's River. We spent two luxurious nights enjoying Hilary's home cooking, the fact that we didn't have to put up the tent and an extremely comfortable bed. Hilary gave us some fantastic bush recipes which we will share with you soon. During the day we went to the beach with the dogs and even paddled Bow Wow down the river in a canoe in the golden sunlight. (Sounds romantic but the reality was that Bow Wow kept trying to bite the oars and so we were eventually forced to make him walk the plank.) Bow Wow got on so well with Hilary and David's little sausage dogs Chippy and Pippa, please read Bow Wow's post 'Growing up on the Road' to find out how much, but be warned this tail has a sad ending.
Our next hosts were Richard and Marie who live with their perfect sprogs and dogs in a super hip condo in East London, complete with a vegetable patch fit to rival Mr. McGregor's. Invited to dinner were Marie's sister, Penny and her husband, Mike, who did an overland trip as far as Ethiopia and back a few years ago. They had some sage advice for us that will hopefully ensure that we not only keep safe, but also don't chuck/kill each other half way across Africa. Penny and Mike made a pact with each other that no matter what happened, there was to be no arguing while driving because that sort of tension can lead to dangerous mistakes being made. You are under enough pressure as it is, they explained, with illegal road blocks, exasperating border crossings, wrong turns in dangerous areas and bewildering bush mechanics, without the added strain of quarrelling inside the car too. Bow Wow has managed to stick rigidly to this rule, but so far Lachlan and I have found it almost impossible.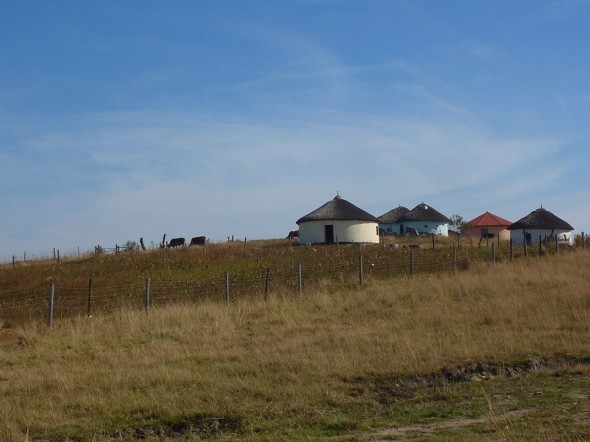 We headed for the Wild Coast, a stretch of rugged coastline in Kwazulu-Natal dotted with small farms and with a tragic history. During Apartheid, the Wild Coast was a Homeland which was an area that the government designated for black people, restricting their movements further and removing more of their rights. It meant that black people became foreigners in most of their own country and could even be deported to a Homeland if they 'misbehaved' in white South Africa. We found this neck of the woods shockingly poor, with families often living in one room rondavels with no access to electricity, fresh water or sanitation.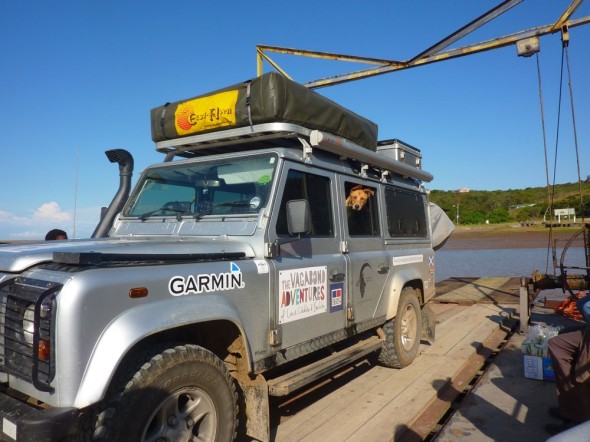 We boarded the one car ferry at the Kei River mouth and made a beeline for Cebe Community Rest Camp, a campsite that Mike and Penny had recommended. When they said that it was off the beaten track, boy did they mean it. Miles of dirt track later and waving past a slew of poverty stricken Xhosa settlements, we reached the remote campsite. Under an enormous old tree we set up camp shaded from the sea wind by thick African bush. We were the only people there, but that did not mean that we were alone; goats, long horned cows and mischievous monkeys all came to say hello. Everything was just peachy until it got dark and we suddenly felt very vulnerable. We began to wonder if all the people who had waved at us that day as we tackled the pot holes, weren't saying hello, but in fact goodbye… Our fears were unfounded, nevertheless I can tell you that we were so glad to have Bow Wow's ears that night.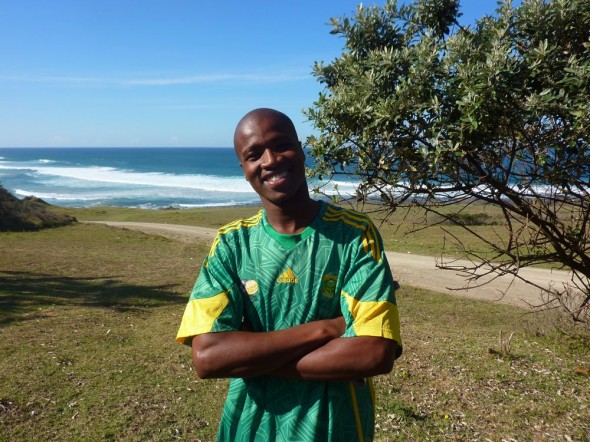 Daylight brought relief and some Xhosa villagers who explained that the campsite is run by and benefits the community. The man in charge was twenty two year old Sandile Klass in his Bafana Bafana football shirt and cradling a week old newspaper under his arm. If you go to Cebe, please bring Sandile a recent newspaper so that he can keep up with his team in the World Cup. Before we left, we went for a long walk on the white beach and ours were the only foot prints on the sand.
We drove into the night past shanty towns and yet more extreme poverty to reach Matatiele, a small town south of Lesotho. To the angelic sound of a gospel choir singing in a nearby church, we put up our tent, the bittersweet beauty of Africa's extremes already getting under our skin and touching our hearts.
Similar Posts: