The No. 1 Animals' Dating Agency
The First of our Tails from Swaziland

By Guest Writer and Roan Antelope, Tsandziwe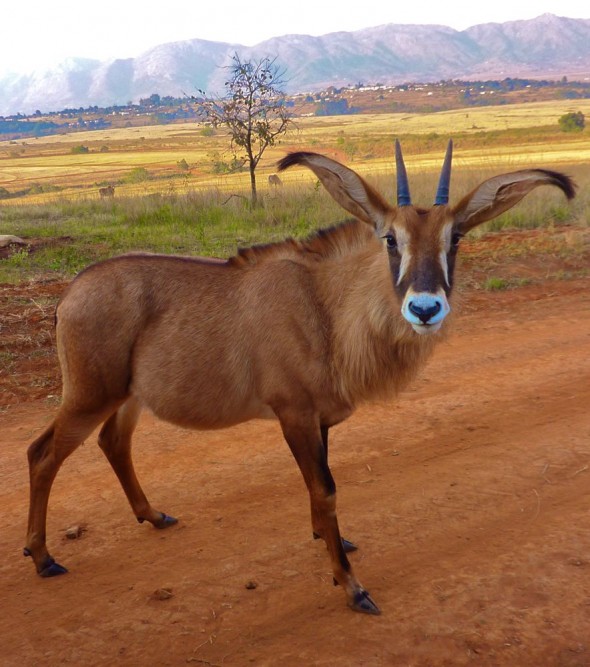 I am a female, adolescent Roan Antelope, Africa's second largest antelope after the Eland. My name, Tsandziwe, means 'Loved One' and is most fitting for my life has been full of blessings. With my Disneyesque long lashed peepers, tufted ears and heart shaped nose you would be forgiven for thinking that, if I could talk, I would have a Californian accent. In fact, I would probably sound very British as, although I was born in Swaziland and my father is African, my mother and aunts are 8th generation, zoo born Roan Antelope from Marwell in Winchester, England. My good fortune began when they were donated by Dr. John Knowles and translocated 'home' to Swaziland by the charity called Back to Africa, or as we Roan Antelope call it, The No. 1 Animals' Dating Agency.
Celebrity Newsflash on the Swazi Bush Telegraph
I live with my herd at Mlilwane Wildlife Sanctuary in the Kingdom of Swaziland where recently there has only been one name on everyone's lips and beaks…
It all started when the Vagabond Adventurers were invited for breakfast at colonial relic, Reilley's Rock. Overlooking Mlilwane's game studded plains, in between mouthfuls of the sweetest grapefruit and slurps of Earl Grey tea, they chatted to Ted Reilley who founded this safe haven for animals. The topic of their animated conversation was overheard by a knock-kneed klipspringer who shyly whispered her eavesdroppings to a weaver bird. Being a notorious gossip, it was not long before the news had spread across the savanna like a veld fire, leaving all it reached ablaze with rumours of Stephen Fry's imminent arrival.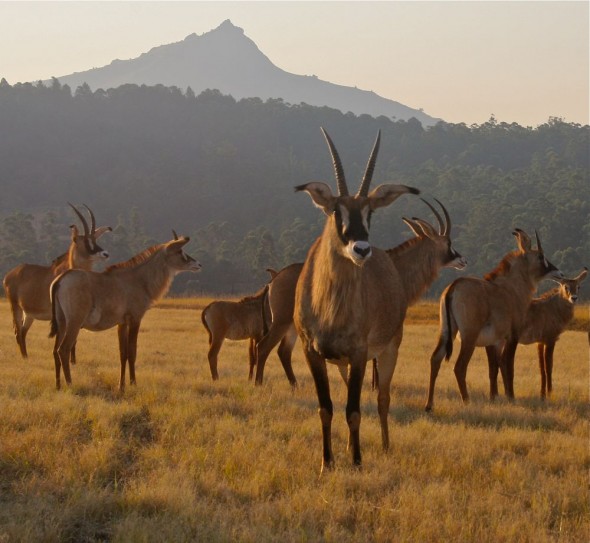 Like most of the fauna at Mlilwane Wildlife Sanctuary, we Roan Antelope were unfamiliar with this treasured star's quiz show, Q.I., his enthusiasm for all things digital or even his work in Hollywood. Intriguing details like "extremely tall" and "tweets a lot" quickly surfaced on the bush telegraph, compelling us to wonder if he might resemble an ostrich or perhaps a saddle-billed stork. Regardless, we hoped that, just as flames rejuvenate the grasslands, his presenting here for a BBC documentary called Last Chance to See with naturalist Mark Cardawine, may rekindle the World's interest in our and other rare and endangered species' plight.
As human populations continue to over flow and our natural habitats are consumed by urbanisations seemingly unquenchable thirst, many species in Africa, including us Roan Antelope, have reached precariously low numbers. Thankfully, there are still some protected areas like Mlilwane Wildlife Sanctuary, but because of fencing and human habitation animals can no longer migrate easily. This has made it practically impossible to find partners who are not closely related, which in turn has meant that our offspring are often weak and don't survive.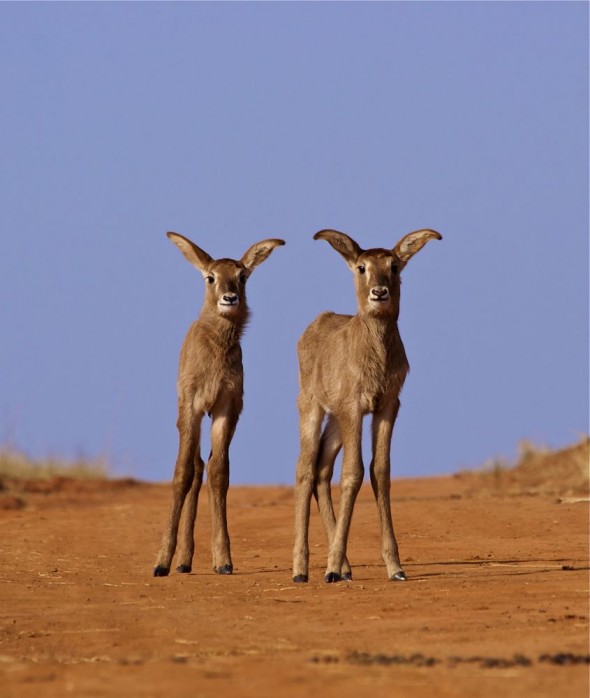 Thank goodness for the charity/dating agency, Back to Africa, which brings gorgeous, unrelated creatures from zoos around the World 'back to Africa'. They recognise zoo populations as existing gene pools, the injection of which can correct the genetic bottle-necks now occurring in the wild and in doing so ensure that our young are born healthy and strong. By establishing breeding projects like The Roan Project in Swaziland, Back to Africa create new populations as an insurance against extinction.
Unfortunately, most zoos do not budget for reintroductions of this nature but spend millions displaying charismatic animals that are not conservation priorities. The imprisonment of animals purely for human entertainment is not fair. However, as the custodians of genes once plundered, zoos can play a vital role in restorative conservation and have an ethical reason to exist.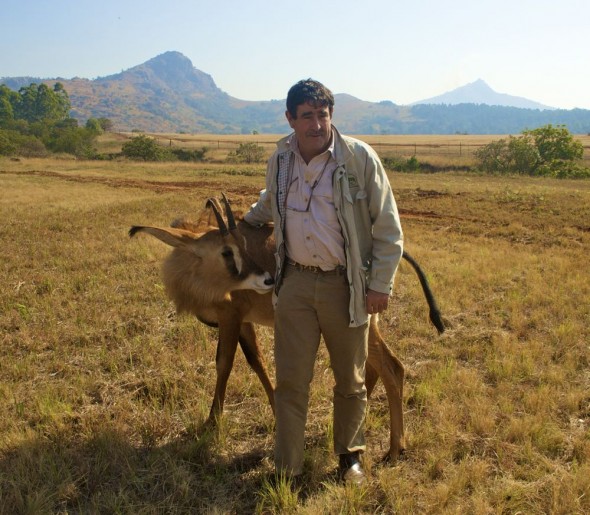 The founder of Back to Africa, Dr. Hamish Currie, has joked "We are not bunny huggers!" referring to the fact that this radical charity's main aim is to rescue genes, not animals and yet our bliss certainly is a significant byproduct. To watch my herd, grazing on sweet grass by the indigo hills, aptly named Sheeba's Breasts and Execution Rock, is to know, beyond any doubt, that we Roan Antelope are happier here in Swaziland's shafts of sunlight than in a cage in England.
Let's cross our hooves and hope that this bush telegraph makes its way around the globe, encouraging all zoos to support Back to Africa by taking part in The No. 1 Animals' Dating Agency and in doing so saving more species from extinction.
Similar Posts: