Nail Biting Stuff
The Third of Our Tales from Swaziland
By Vagabond Adventurer, Lucie
Previously on the Swazi Bush Telegraph…
Hand in wing, Beatrice the White-fronted Bee-Eater invited you to soar with her above Mlilwane, the home that she shares with Back to Africa's Roan Antelope Project and a host of other furred, feathered and scaled residents. She explained how Ted Reilly, Swaziland's pioneer nature conservationist, provided refuge for the Kingdom's creatures when they had nowhere else to turn by converting his farm, Mlilwane, into a wildlife sanctuary.
Rhino Horn's High Price
Rhino horn is made of keratin, exactly the same type of protein which forms our own hair and fingernails. Despite the fact that it has been scientifically proven to contain no medicinal properties what so ever, practitioners of traditional Chinese medicine would have us believe that it can cure a mind boggling array of health problems from fevers to headaches and even devil possession. (The latter may go some way to explaining why super-silly-super-model, Elle Macpherson is a devotee. Is there any truth in the rumour that she has been mock charging Land Rovers recently in London's West End?) In short, consuming this illegal powdered substance at the princely sum of around $60,000 a kilo (not to mention the cost of a rhino's life) is as effective as chewing your own talons and yet the ever increasing demand for rhino horn has sent these poor animals on a horrifying march towards extinction.
Already poached to extinction in the wild and with only seven individuals left in captivity, the Northern White Rhino is the rarest large mammal on earth. The charity that we are supporting called Back to Africa instigated the translocation of the last four fertile northern white rhino from Zoo Dvur Kralove in the Czech Republic to a breeding project at Ol Pejeta reserve in Kenya. The hope is that, now back on 'home' turf, these precious rhinos will be in the mood for love, reproduce and their species will be saved. A BBC television series called Last Chance to See which documents species on the brink of extinction and is presented by Stephen Fry filmed this special translocation. If only it were as simple as gift wrapping your rhinos and popping them in the post. The four northern white rhinos, Sudan, Suni, Fatu and Najin had to practice getting in and out of a container for months to prepare them for their unsedated flight to Kenya. The program will be broadcast later this year and will also include footage of Back to Africa's Roan Project at Mlilwane Wildlife Sanctuary in Swaziland. We know, because we were there!
He Who Sleeps in the Bush and Appears in Unexpected Places
After founding Mlilwane, Ted Reilly went on to establish another two sister reserves in Swaziland, Hlane and Mkhaya. The three reserves, each with a unique flavour, are known collectively as Big Game Parks. He successfully protected and restored game populations in the Kingdom, outwitting poachers so effectively that he became known to them as 'Msholo', which means 'he who sleeps in the bush and appears in unexpected places'. Thousands of snares, laid by poachers to trap animals, hang in rusting murderous coils at the entrance of Mlilwane. They serve as a reminder of the ever-present threat to Swaziland's wildlife.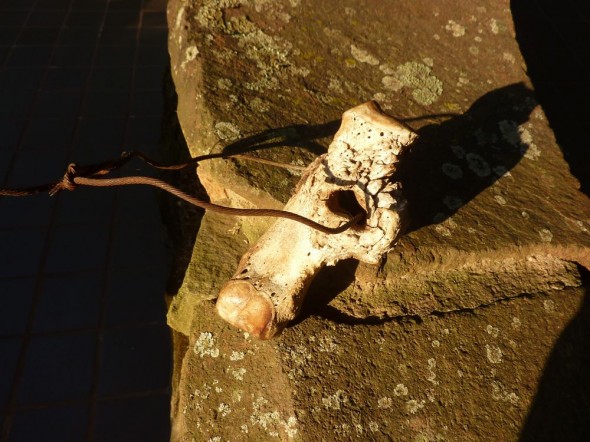 We arrived a few days before the Last Chance to See crew and were honoured to spend time with Ted Reilly. He opened our eyes to the cruel realities of poaching showing us, amongst other things, a bone that belonged to a baby rhino. "She was caught by a snare which was anchored to a tree. She struggled to pull free with such force that the wire cable cut through the skin and tendons, tightening around the bone. Eventually the wire cable snapped and she broke free to lead the rest of her life in unthinkable agony." He pointed out the bone growth over the snare, evidence that this brave baby rhino took a very long time to die. The hole, around which the bone growth calloused, shows that the snapped wire protruding from the leg must have snagged on grasses and bushes every time the baby took a step, causing the gaping hole up against the marrow. "Imagine the pain," he empathised "deep in the bush, no doctor, no morphine, only incessant agony for month after month until death finally brought relief."
Sophisticated Killers
Poaching rhino, in particular, has become big business due to the high value of their horn and has attracted mafia type gangsterism. The death of a rhino usually follows a telephone call from Hong Kong and heavily armed poachers on foot are now being joined by high tech criminals who swoop in on unmarked helicopters, silently darting and immobilizing the animal from the air. The defenceless rhino's horn is removed later by someone on the ground that has been given the exact GPS co-ordinates and the butchered animal is left to wander around bleeding to death. Poachers are ruthless, even taking the horns of pregnant females and those of mothers with calves.
Since 2010 began over 200 rhinos have succumbed to commercial poaching in South Africa but Swaziland has not lost a single rhino since 1992. Despite Ted's world renowned anti-poaching squad, this has not always been the case. Swaziland was losing a rhino a week in the months that led up to the amendment of the Game Act in 1991. Until this point, poachers were being caught by rangers but none were being prosecuted, the courts would simply let them go and they would continue to re-offend. It was a rhino holocaust. Rangers had to contend with shoot-outs, petrol bombs, attempted assassinations and murders. In a desperate bid to halt the poaching craze and the ensuing bloodshed, Ted Reilly composed the amendment which enforces harsh penalties and he hoped this would outweigh the lucrative benefits of animal trafficking. The King of Swaziland, in his wisdom, enforced the act and finally the crime of poaching was taken more seriously. This change in the legal system did not just signify longer sentences and more substantial fines for criminals, it empowered and protected Ted's rangers too, allowing them to search, and arrest without warrant and to be armed with similar weapons to the poachers AK47's. Most controversially, it meant that rangers would not be prosecuted if they had to use these weapons in the course of duty.
IN THE PRECEDING 10 YEAR PERIOD, BIG GAME PARKS HAS ARRESTED 1143 POACHERS.
OVER THE PAST 20 YEARS, 6 POACHERS AND 5 GAME RANGERS HAVE BEEN KILLED IN ACTION.
It seems Ted has enemies in high places. We read in the Swaziland Times* that a foreign backed NGO called Yonge Nawe is actively supporting poachers, claiming that they are innocent hunter gatherers and that killing wildlife is their only means of survival. If only the backers of this organisation could be made aware of the truth. These poachers are sophisticated gangsters in it for the money. Yonge Nawe's promised legal support and compensation to poaching 'victims' is beyond belief and totally irresponsible. The last thing that rhinos need is any form of incitement and encouragement that gives hope and strength to poachers.
* Hlophe, M., 2009. Stop these killings! Times of Swaziland 31 Jan
* Hlophe, M., 2010. The guilty are afraid. Times of Swaziland 7 Mar
Last Chance to See and the Arrival of Stephen Fry
A herd of waterbuck waited regally outside the gates of Reilly's Rock, the colonial homestead where the Last Chance to See crew were fast approaching. It seemed as though the bush telegraph really had gone into overdrive as Mlilwane's animals arranged themselves into their most fetching positions and strained to catch a glimpse of this rare creature from England. Stephen Fry appeared just as he does on screen (perhaps, if anything, even taller) and only slightly crumpled from his long haul flight wearing a linen jacket, shirt and jeans. He carried a brightly striped bag containing the treasured Apple gadgets that go everywhere with him. We told the crew about our new charismatic friend, Tsandziwe the Roan Antelope and they set off almost immediately to meet her for themselves. Predictably, they were just as charmed. Later we watched on as co-presenter Mark Cardawine assisted Dr. Hamish Currie and Ted Reilly's son Mickey in sedating a Roan bull in order to put plastic tubes over the horns. This blunting is an important precaution to protect precious females during mating as apparently the males can be quite rough.
Mkhaya
Then it was off to sister game reserve Mkhaya, which is home to a host of endangered species and at the forefront of black and white rhino propagation. Lachlan got a lift with Mickey while I travelled with Ted. By the time we arrived it was dark but Ted turned off the headlights and with the windows open to let in the sounds of the bush, we drove through the acacia rich reserve lit only by the radiance of the full moon. They say that buffalo always look at you as though you owe them money, but the ones we startled on our night drive certainly didn't expect us and looked more sweetly surprised than anything else.
The Mkhaya camp was magical beyond all our expectations. Paraffin lanterns led the way through a corridor of trees and trailing vegetation to our own private rondavels. With no windows or doors you are literally open to the bush and the camp is unfenced so animals are free to walk through. A billowing mosquito net suspended from the high thatched roof was so evocative of the romance of another era I could almost forgive mosquito's for their bites. We dumped our bags, hung up our jackets on the branches that serve as hooks and raced back to join everyone around the campfire.
While Hamish entertained us with stories of baboon captures and porcupines stuck in holes, the mouth watering aroma of stew simmering in traditional potjie pots filled the air. At last it was time to eat. On our way to the table Ted said that I was to sit between him and Stephen Fry. I felt truly honoured. Stephen Fry was every bit as charming in the flesh and had an encyclopaedic knowledge – he even seemed to know more about my obscure home town in Scotland than I did. He was keen to show everyone his new iPad with an amazing star gazing application called StarWalk. You point the iPad at the sky and the screen fills with a live view of the heavens above you, following your movements exactly. Under the magnificent splendour of the real Milky Way, we tucked into mielie pap with an onion and tomato sauce and the most delicious rolls baked with corn.
Conversation turned to why there are so few documentaries on poaching. Last Chance to See co-presenter, Mark Cardawine, explained that he would love to film a report but felt that he could not put a crew in that kind of danger.
It was an enchanting evening which we will never forget.
The following day we woke early to go game viewing and were thrilled when a Mkhaya staff member arrived with coffee and muffins for us on a tray balanced on her head! We saw many animals including rare species like the eland, tsessebe and white rhino. A BBC cameraman was allowed to go deeper into the bush on foot with Mickey Reilly and film a black rhino and her calf. They are very shy animals and can be aggressive. Our highlight of the day was watching from only a few metres away a baby white rhino climbing a termite hill to get a better view and smell of her surroundings. We were very aware that these close encounters are only possible because of Ted's loyal rangers, risking their lives daily on the frontline, and without whom there would be no wildlife left to protect in Swaziland.
Later that day we watched the relocation of a Roan bull to Mlilwane and then it was back to Reilly's Rock, taking care not to drive too fast in order to avoid nocturnal nightjars nesting on the road. Thank goodness we were going slowly because at one point a baby hippo trotted across our path like a little pig and jumped into Mlilwane's mirror lake with a splash!
That night Ted had invited us to stay at Reilley's Rock and I took full advantage of the claw footed bath that was so big I could push off each side. The only thing missing was a Cadbury's flake.
Our memorable time with Ted had finally come to an end. In this world, driven by the accumulation of financial wealth rather than the conservation of our ecosystem, we only wish that there were more people like Ted. Perhaps then the future of our wildlife and wilderness would not seem so uncertain.
"Over billions of years on a unique sphere, chance has painted a thin covering of life………complex, improbable, wonderful and fragile. Suddenly we humans (a recently arrived species no longer subject to the checks and balances inherent in nature), have grown in population, technology and intelligence to a position of terrible power: We now wield the paintbrush." – By Paul Mcready a NASA engineer and environmentalist.
Similar Posts: