Lake Kariba, Zimbabwe (Photo Diary)
This is not a popular route, the road is notoriously awful and we knew that there was a large possibility that the few camps marked on our map may have closed due to a lack of tourism. We were happy to bush camp until we met some trail bike riders coming towards us. They told us that they'd just seen lion (it turns out this area has the second greatest natural population density of lion in Africa) and bush camping was not advisable. Especially not with Bow Wow a.k.a Leopard Bait. They suggested we turn back but retracing our tread-marks on this terrible road was not an option.
The rough dirt road was so bad that the passenger door became unhinged, would no longer close and was in danger of falling off all together. We did a quick duct tape patch up, all the while looking out for predators and hoping that it would hold until we could fix it safely.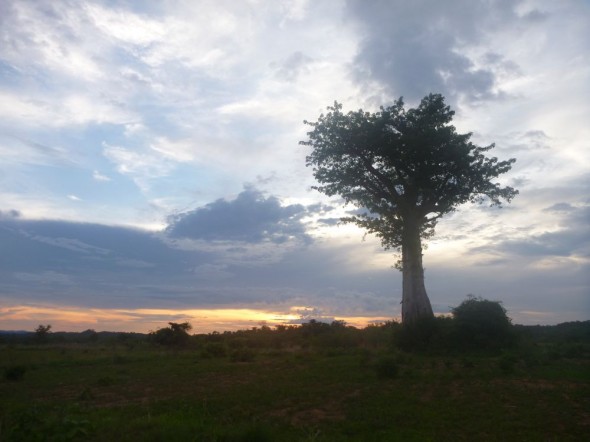 All of the camps had long gone and we didn't pass another soul. It was beginning to get dark. We could see Matusadona National Park on the map and reckoned that was our best hope. Because of the corrugated road, our average speed was only 30km an hour and we still had another 150km to go, it was going to be a long night.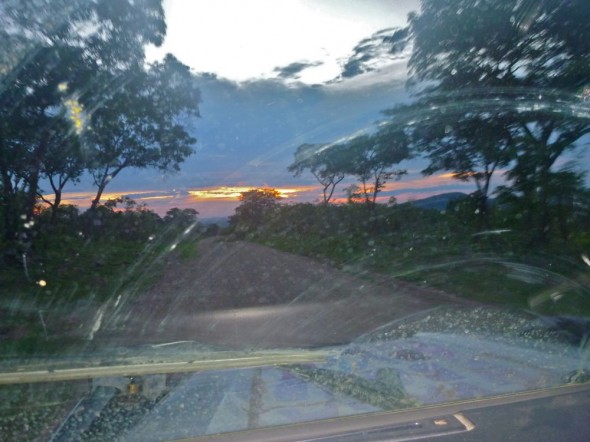 Stressed and tired of being shaken about, we turned a corner to see a procession of great ghost like elephants. They appeared luminous white in our beam, just like the ghoulish dream sequence in Disney's Dumbo.
We stopped bickering and watched in awed silence as they passed – that image will be etched in our minds forever.
We'd heard that overlanders count seeing an owl as a bad luck omen and a sign to stop driving. Well, we accidentally hit and killed a lovely bird called a night jar. When Lachlan put on the brakes for it to slide off the bonnet, it's corpse got stuck in the grill and it was as though it was looking at us! From Disney to suddenly Hitchcock – "What kind of omen is this?" we despaired.
Eventually we found our way to the national park and found a solitary little house surrounded by dense bush. We knocked on the door and a man answered. He told us we could camp near his house for $11 but to watch the dog for lions.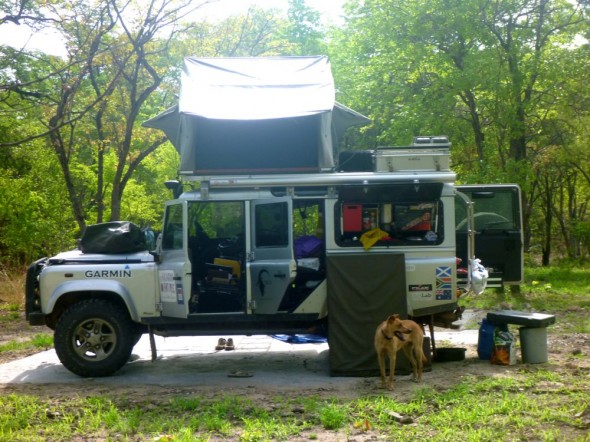 We fixed the passenger door the next day to the sound of chatting and laughter. Some of the ranger's friends had arrived and there was a lovely festive atmosphere as we smiled back at their curious glances. When we were all packed up, we went to thank them and pay but instead of being $11 as agreed, the price had shot up over night to $79! The ranger held up a ripped piece of cardboard displaying the newly scrawled prices which included extra fees for the dog, the car, camping and park entrance. This was what the laughing had been about! He had to be joking; there wasn't even any running water, let alone a loo. He eventually accepted the $11 with a philosophical shrug. It was worth a shot.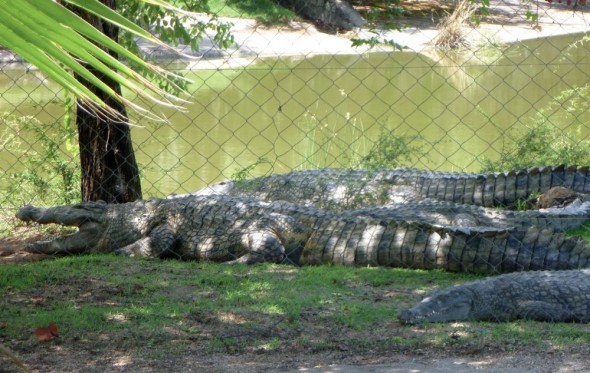 We camped at Binga next to a crocodile farm. A worker told us that some of Mugabe's war veterans had pitched up one day thinking that it was an agricultural farm and wanting to claim the land for their own. The owner of the crocodile farm stood back and said 'Go ahead, be my guest. The water's lovely!'. Needless to say, once they discovered the true nature of the farm, they lost interest.
(So much of Zimbabwe's once productive farmland lies dormant since Mugabe's redistribution of land. An incredible documentary to watch is Mugabe and the White African – it is a story of moral courage about a family who stood up against the Zimbabwean government, refusing to leave their farm or desert their workforce. They suffered terrible beatings at the hands of Mugabe loyalists and tragically, last month, the patriarch of the family, Mike Campbell, died as a result of these beatings.)
Similar Posts: