Getting our Kicks on Route 62
(Please note that aside from sending smoke signals, we have had no access to communications for a while, so forgive us for the lack of posts and get ready for a sudden surge!)
They say that a Defender is always sick but never dead, well poor Lula our Landy has suffered her fair share of ailments, stalling our departure from Cape Town by almost a month. We finally left, as ready as we would ever be, on May the 23rd with only two weeks to get to Lesotho so as not to overstay our (already extended!) South African visas. Like every great road trip, we three were on the run and the heat was well and truly on!
We headed for Route 62, the less commercial and more interesting inland alternative to the coastal Garden Route. Much like its American counterpart, Route 66, Route 62 is classic road trip material with both natural and manmade wonders at just about every turn. It boasts to be the World's longest wine route but vineyards are just one part of Route 62's appeal. Nestled between it's fertile valleys are lovingly preserved 18th century villages oozing with country charm and home to eccentrics, quirky cafes and galleries exhibiting local artists work.
We spent our fist night in one of these picturesque villages called Montagu. With our camp set up and all three of us fed and watered, Bow Wow happily discovered new smells and under the stars we reflected on the months of preparation it had taken to get to this point and on the adventures that lay ahead. Later, without the usual distractions of television or the internet we began reading Alexander McCall Smith's brilliant book, Tea Time for the Traditionally Built. This has since become a much looked forward to nightly ritual where we take it in turns to read a chapter (or until someone falls asleep) with accents for each character. The observations in the book on how differently men and woman think are spot on and often hilarious and so it is not uncommon to hear laughter erupting from our tent.
The next day we walked up to the quaint old mill and then explored the well kept village with it's fragrant gardens and delightful mix of architecture. The jacaranda lined streets sport verandas that are decorated with Victorian lace iron work, uneven thatched roofs, white picket fences with mail boxes and windows that are flung open and framed with bougainvillea or thickly painted shutters. We had heard that the countryside was safer than the city and this certainly appeared to be the case, as unbarred open windows are not something that you tend to see in Cape Town.
Sunset in South Africa is as early as 5pm at this time of year and so it was all aboard Lula and back on Route 62 so that we would make it to our next campsite before dark. We stopped briefly at a vineyard for a spot of wine tasting and Bow Wow made sure that all of the squirrels were seen off the premises or at least up in their trees. Back on the road we cruised along through yet more villages, past orchards and farms with mountain views, when suddenly loomed some enormous red painted letters on the side of a white farm stall which read 'RONNIE'S SEX SHOP'. Intrigued by this incongruous site and like so many travellers before us we screeched to a halt and got out to look inside.
It turned out to be a bar, not a sex shop after all, although the interior has been decked out in cheap thongs and lacy bras made in China and kindly donated by patrons over the years. Every inch of wall is covered in graffiti and we left our mark too by pinning up our business cards as Lucie was unwilling to leave behind her Bridget Jones brooks. Sadly it was Ronnie's day off but we propped up the bar with a Savanna Dry and got the inside scoop from Peter, the bartender, who told us that Ronnie's Sex Shop is in fact the result of a practical joke. The building was originally intended to become a farm stall called simply Ronnie's Shop. However, one booze fuelled night, Ronnie's friend added the word 'SEX' and since then, almost every car passing has stopped to take pictures. Ronnie saw the funny side and wisely decided to ditch the farm stall idea and opened Ronnie's Sex Shop bar instead. That was almost 13 years ago and it is still going strong, with up to 500 revellers a night and a firm favourite of the Harley Davidson bikers and, it would appear, generous ladies who don't mind going bra or knickerless.
Just as the sun was setting, we made it to our campsite which had natural hot spring swimming pools. The pools looked so inviting but we had to set up camp and make dinner and so they would have to wait until the next morning after another instalment of the No. 1 Ladies' Detective Agency and a good nights sleep. However, a rather rude rooster had other ideas and our morning dip turned out to be earlier than anticipated when he began crowing at 4:30am. Wide awake, we donned our trusty head torches (we seriously could not live without these, if only coal miner chic would come in and then we wouldn't look quite so ridiculous) and bathed in the healing powers of these naturally warm pools.
It seemed that the feathered theme that had started our day was set to continue, as our next port of call was Highgate Ostrich farm in Oudtshoorn, the ostrich capital of the World. The fashion for their feathers in Paris during the early 1900's started an ostrich farming boom in Oudtshoorn. You can imagine how fabulously exotic it must have been back then to own a ball gown made with feathers from these incredible birds. Highgate ostrich farm had not changed since Lucie visited when she was a little girl and even featured some of the very same ostriches as they can live for up to 80 years. Bow Wow did not know what to make of the ostriches, Jack the Ripper and his wife Suzy the Stripper, but they made it quite clear that they did not approve of Bow Wow. However, this ostrich couple did allow us to stand on their strong eggs, which we were assured by our guide could hold even our weight. One ostrich egg is the equivalent of 24 chicken eggs – that's some omelette! Lachlan was even game enough to try riding one of our new winged friends but only managed to hang on for a few comical seconds.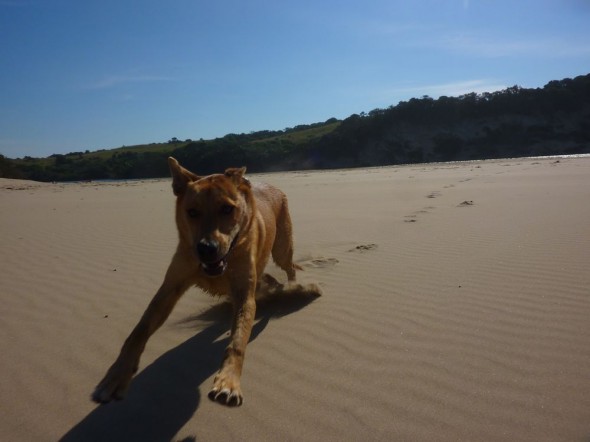 Next up on our magic mystery tour were the Cango Caves which are like entering some underground Tolkien fairy World. The caves are alive with stalagmites and stalactites of enormous proportions which are still dripping and growing micron by micron. We did the adventure tour which entails squeezing through a labyrinth of tiny gaps deep underground and is definitely not for the remotely claustrophobic. Nor can you be traditionally built like Mma Ramotswe as one stouter visitor discovered a few years ago when she became stuck in the split position for over 11 painful hours. Apparently a combination of brute force and fairy liquid finally popped her out.
We were the only people camping that night at the fabulous Cango Mountain Resort and Bow Wow had the whole campsite to play with his frisbee and ball. Our long journey back to the UK had begun and so far, so great.
Similar Posts: