(Not) For Sale: Land Rover Defender 110 Including Complete Overland Kit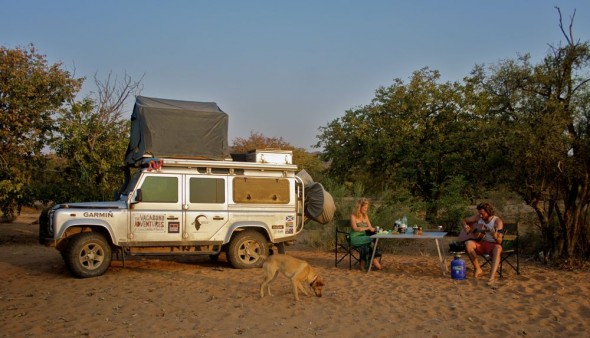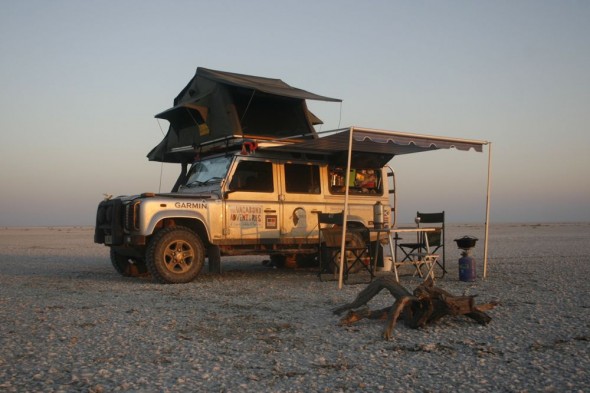 Quit Your Job.
Buy A Ticket.
Get A Tan.
Fall In Love.
Never Look Back.
Travelling through Africa with our dog, Bow Wow, has been an experience we will never forget. Sadly this adventure must come to an end for now so we can focus all of our energies on The Band4Hope Project.
We spent months driving all over Southern Africa in this incredibly reliable pimped out Defender. We had it serviced regularly wherever we were and it never let us down. With traction control, you can go pretty much anywhere in this 4×4 as you can see from the pictures below. No need for roads, we prefer dry riverbeds anyway.
This is your mobile home on wheels with everything you need. We're including a complete package as detailed below.
This is a UK registered vehicle currently parked in Cape Town, South Africa with a current Carnet de Passage. It expires on 30th November 2012, though can be renewed for another year or more for further travel through Africa and beyond.
Scroll down for more pics and price.
The Vehicle
Registration: UK registered – L40 CWT (in South Africa with current Carnet de Passage)
Year: 2006 (reg'd 26-Dec-2005)
Make: Land Rover
Model: Defender
Wheelbase: 110
Engine: Td5 Diesel
Engine Capacity: 2.5L (2498 cm3)
5 Speed Manual with High/Low and center diff-lock
Traction Control
Mileage: approx: 66,000 miles (106,216 km)
Air conditioning
Power Steering
Immobilizer
Fully serviced
Vehicle Modifications
Full Length Alu Roof Rack w/ ladder
74L Aluminium Box installed on roof (Size 780 x 580 x 200mm)
Eezi Awn T-top roof tent 160cm with Shower Skirt (additional bedroom)
R/H Wing Mounted Rear Fuel Tank 45L
Water Tank – 44L – RH Rear under car
Eezi Awn 2.5m Awning
Snorkel
Diff guards
Lockable Safe under the center console
N. Luna Portable Power Pack c/w Deep Cycle Battery
Secondary Battery (2 batteries in total)
Solar Panel – 80w on roof
50L National Luna Fridge / Freezer
Little Black Box – Alerts you to any engine problems (oil / water / temp / charge etc)
Heavy duty tow bar with pin and ball mount – use as recovery point
1 x 20L Double Aluminium Jerry Can Holder with 2 jerry cans for diesel fuel mounted
6 x brand new Tyres – BF Goodrich Mud-Terrain T/A (spares: 1 mounted on rear and other on roof)
Shovel & Axe – bolted onto front of vehicle
Side Wing Doors – Lockable. Provides easy access.
Right Hand Wing Cupboard
Spare Wheel Carrier
Thule 2 Bike Carrier
Hi Lift Jack – Bolted on the outside to save space.
Gas Bottle and bracket – mounted on rear
Tow Ball with Towing Points
All exterior lights protected
Strong interior wall installed separating the rear and front cabins. Near impossible to break in!
Sound – Amp & Extra Speakers (standard LR speakers are terrible!)
New CD player with USB and iPod connection
Seats removed for extra space – only 1 seat in rear
Pullout Drawer at rear of car to store bits and bobs – super handy!
Hot Shower – heat produced from mod in engine using coolant. Keep car running for hot water.
Tools & Spares
Almost everything you can think of that you would need to get through Africa!
All required spares
Defender Workshop Manual
3 x Oil Filters
4 x Fuel Filters
2-3 x Air Filters
Variety of Fuses
Power Drill
Light Bulbs x 2 of all
Tool Kit – top of the range, can't remember brand but very good

Including the following plus more
Vice Grips
Water Pump Pliers
2 x types Wire Cutters
Pliers – various types
Metal Hammer
Assorted Open & Ring Spanners
Socket Kit
Screwdrivers – assorted

2 extra large Shifters
Water Pump
Small Blow Torch (welding)
Multi Meter to measure voltage
Silicon Bandage to fix hoses – MI 4X4 SILICONE TAPE
Magnet on a stick
12v portable drill – rechargeable / 12v
Pop rivet gun + pop rivets
Tyre Puncture Repair Kit – Tech Brand
Tyre Pressure Guage
Tyre Pressure fast let down tool
Tyre Valves Spare
Fuel Funnel
Jubilee Clips
Vaious Cable Ties / Hose Clamps
Plastic Fuel Line and Connectors
Prately putty / flexible HEAT RESISTANT
Tubes of Silicon
Glue that petrol doesn't dissolve
Glues – Q.Bond, Pratley Steel, Plastic mix glue
Contact Adhesive
Rapid araldite/plastic metal glue
Silicon Spray
Instant Gasket Paste
Exhaust Repair Putty
Radiator Sealant
2m fuel hoses (long enough to be used as a siphon)
WD40 / Q20 Spray
Hand Cleaner
Spray Degreaser
Diff types of Electrical Wire 2 m lengths
Roll of wire
Crimp Connectors
Electrical Connectors
Masking Tape
Gaffer Tape
Electrical Tape
Rubber Mallot
Mole Wrench (lge & sml)
Pipe Wrench
Grease Gun
Length of Pipe (to extend power bar for stubborn nuts)
Self tapping screws
Assortment of nuts, bolts & washers
Thick Plastic Sheeting 1.5m x 2m
Nylon 6mm string
Nylon 10mm string
Stronger Normal Rope 20m length
Some pieces of Aluminium & Metal Plates 10 and 15 cm sq
Rolls of Mutton Cloth
Oils
Engine Oil – enough for 2 changes
5L of Gearbox & Differential Oil
Grease
Transfer box Oil
1-2 L Brake and Clutch Fluid Oil
1-2 L Coolant (water is possible)
Radiator Sealant
Cooking
All cooking equipment you need including items such as pots, pans and a great Potjiekos
Recovery Kit
Kinetic Rope
Tow Rope (static)
2 x Short Bridle Ropes
4 x 3/4 tonne Bow Shackles
Aluminium Track Mats / Sand ladders – VT SAND PLATES ALU
Gloves – WI GLOVES LEATHER
2 pieces of wood (for chocking wheels & bottle jack)
Geared Bottle Jack
Heavy Duty Jumper Leads – BE 450A BOOSTER CABLES
1.5KG FIRE EXTINGUISHER
Dry Powder
Garden bottle and sprayer
Triangles – warning x 2
Y/W/R Coloured Reflective Tape for Vehicle – ZA Zambia Tape
Accessories
LifeSaver Jerrycan – the ultimate in water filtration
3 x 20L Green heavy duty Water Cans
Washing Machine – Water tight container. Put clothes, washing powder and water in and hit the bumpy road!
12v Torch – rechargeable – strong
Big Country 1200 x 800 Aluminium Table with Rip Stop Canvas bag
2 x Campmor Directors Chairs with Rip Stop Canvas Bags
6 x Gommo Boxes
1 x Ground Sheet for Awning
1 x Small Inverter 1000w
1 x Twin Cylinder Compressor
Plus much much more!
Stool (fold up) – CH Goanna Chair
Washing Line
2 x Mosquito net – Large
Citronella Oil – mosquitos – CE Citronella Oil Refill
Cloths / rags
Padlocks
Multi 12v Cig power board – BE 3 IN 1 POWER SOCKET 12V
Front windscreen sun protector – VT ALU CARCOOL 4X4 160X90CM
Scroll to end of post for price.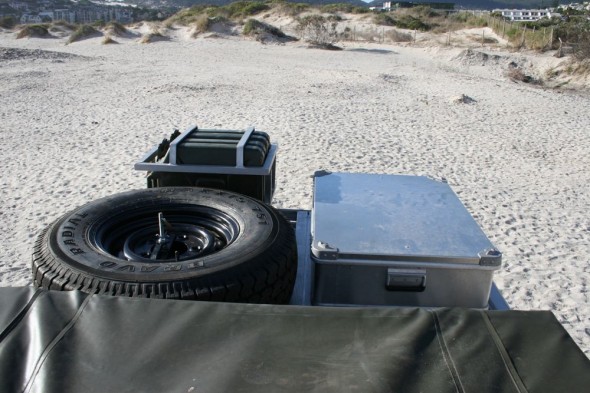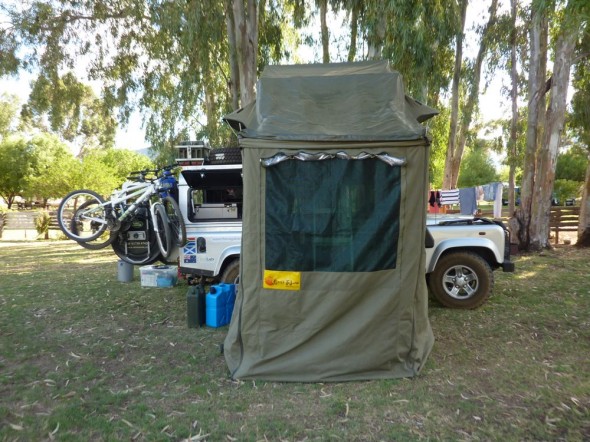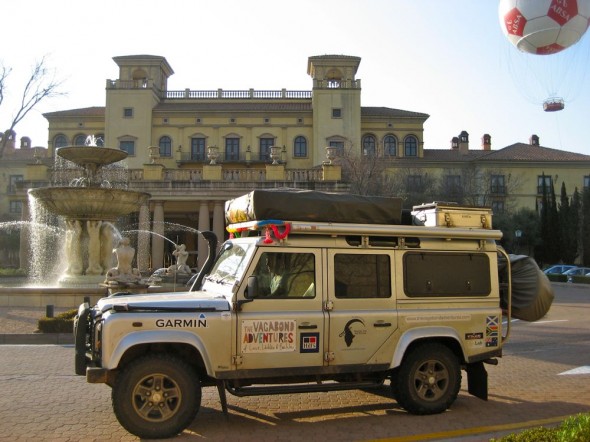 As previously mentioned, this is a UK registered vehicle currently parked in Cape Town, South Africa with a current Carnet de Passage. It expires on 30th November 2012, though can be renewed for another year or more for further travel through Africa and beyond.
We can also ship the vehicle back to the UK within a month or so if required.
Please contact us for more info.
Good luck! 
Update (13-Apr-2012)
We're excited to announce that we've decided to keep Lula and she's floating her way back to the UK now. We're going to re-brand her as The Hope Truck with a new mission… bringing The Band4Hope Project to this summer's UK festivals!
Similar Posts: