Biliary, Bribery & Our Mission to Kill the President
We've been back in the UK for a while now but still haven't shared all of our last overland trip with you.
After the Vic Falls, we drove to the Zimbabwean city of Bulawayo. We camped in a hostel garden with a very round, resident pooch called Tom. As we were setting up our tent in the dark, we noticed Tom sampling Bow Wow's previously untouched dinner. Bow Wow wouldn't come out of his kennel and looked so crest fallen, we wondered if Tom had bitten him. Even then, it was totally out of character because Bow Wow is a tough township dog and usually right in to rough play. When we threw Bow Wow's ball, he'd make a half hearted attempt to go after it but had no balance and stumbled. We knew there must be something seriously wrong. 
Thank goodness we were in a city and could visit a vet. The next morning we took BowWow to be tested and it turned out he had biliary, a very dangerous tick borne disease. Biliary for dogs is a lot like malaria for humans, except that in the latter, a mosquito is the cause rather than a tick. If left untreated, Bow Wow would have died.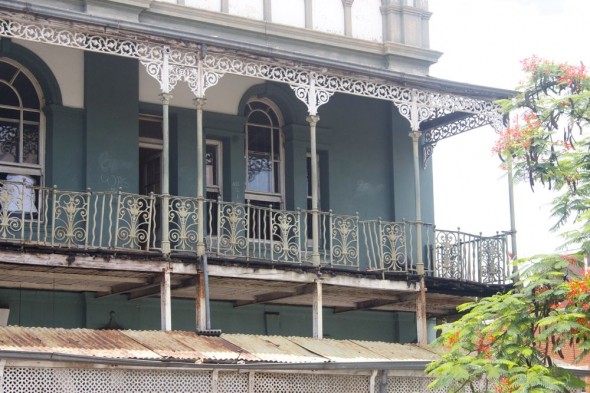 Leaving Harare, we approached a set of lights that had turned green and were so busy chatting we failed to notice Mugabe's cavalcade going past until the last moment. We'd been warned that if you see smart motorbikes with flashing lights, the president is following close behind and you must get off the road to make way or risk his body guards opening fire.
We stopped just in time but were pulled over by some policemen who asked, "Are you on a mission?". Thinking they were referring to the stickers on the car, we said "Yes," but before we could explain that our mission was to innocently source fair trade fashion and raise awareness for the charity called Back to Africa, they proclaimed, "You are on a mission to kill the president!". They took Lachlan's driving license and ordered him to come with them for questioning. (Bow Wow and I waited in the car. Luckily it was locked because at one point, a man tried to break in, tugging every handle with all of his might while ignoring Bow Wow's barking.)
The police told Lachlan that they were arresting him. He tried to explain that he had no interest in killing Mugabe, that he couldn't just leave Bow Wow and me and that we were supposed to be crossing into South Africa that day but the police would not budge and kept insisting that he would have to spend the night in a cell. After an hour of protesting, Lachlan called their bluff and said "OK, lets go then! Lets do this, lock me up!". Of course, the policemen suddenly had an alternative, they would forget the whole episode if Lachlan handed over $60. He managed to get it down to $30 and we were on our way again. We are not proud of giving in to bribery but Lachlan spending the night in a cell, while Bow Wow and I took our chances camping alone, was not an option.
Once at the Beitbridge border, we parked and queued on foot for a few hours in the oppressive heat. When our papers had been stamped, we returned to our car to find that the wheel had been clamped! For absolutely no reason! We were in a proper parking bay alongside other cars (although, admittedly less pimped) which were mysteriously not clamped. Furious and frustrated, Lachlan eventually managed to be seen by someone in management who simply said that we must pay the fine or stay clamped in Zimbabwe. We felt utterly powerless and grudgingly coughed up another $30! It was such a relief to finally be through the border and no longer at the mercy of the Zimbabwean police.
More importantly, Bow Wow was back to his usual full of beans self. His only symptom was severe tennis ball withdrawal and we knew exactly what to do about that!
Similar Posts: