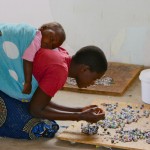 So much of Zimbabwe's once productive farmland lies dormant since Mugabe's redistribution of land. (An incredible documentary to watch is Mugabe and the White African – it is a story of moral courage about a family who stand up against the Zimbabwean government, refusing to leave their farm or desert their workforce.)
However, not only has an organic farm near Harare managed to keep going, they are also employing farm workers' wives and sisters to make beautiful jewellery by recycling old magazines and catalogues.
We visited the farm and watched the women deftly create this unusual jewellery and made an order for Vagabond Van.
---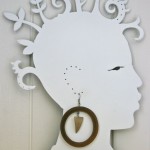 East of Harare, in a pretty little agricultural town, lives a journalism graduate and Jason Bourne fan called Joseph who makes jewellery out of cow horn and bone. We came across his work at a market in Harare and arranged to visit his workshop and develop some tribal inspired earrings exclusively for Vagabond Van.
---