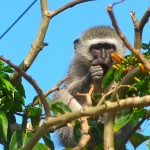 We catch soccer fever and make more furry friends in balmy Durban. I pass my state vet inspection without even a solitary flea. Lachlan is forced to carry me through a throng of amused football supporters but we are rewarded with a view of the staggering Moses Mandhiba stadium. We enter Swaziland to begin the most important phase of our quest.
---
Lachlan does the World's highest bungy jump and Bow Wow joins a crew of salty surf mutts at J Bay which leads to a chance encounter with rock star scientist Brian Cox. We spend a few luxurious nights with Lucie's relatives stocking up on biltong and gaining invaluable advice for the trip ahead. Humbled by the Wild Coast we can feel the bittersweet beauty of Africa's extremes already getting under our skin and touching our hearts.
---
We step back in time to Wupperthal and design some shoes. Bow Wow makes a big impression with his 'shake hands' trick at the village school and we meet a German film crew. Mma Ramotswe would approve.
---