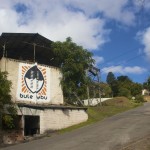 Reunited with Bow Wow we made for recently revived Bulembu, once an asbestos mining town and now home to over two hundred AIDS orphans.
---
In our support of the charity Back to Africa, we visited their Roan Project at Mlilwane Wildlife Sanctuary in the Kingdom of Swaziland. Stephen Fry was there with the BBC filming an episode of Last Chance to See but even he was out shone by the charismatic Roan Antelopes. We were honoured to spend time with Ted Reilly, Swaziland's pioneer nature conservationist who provided refuge for the Kingdom's creatures when they had nowhere else to turn.
---
We catch soccer fever and make more furry friends in balmy Durban. I pass my state vet inspection without even a solitary flea. Lachlan is forced to carry me through a throng of amused football supporters but we are rewarded with a view of the staggering Moses Mandhiba stadium. We enter Swaziland to begin the most important phase of our quest.
---