We stayed with Elspeth in Jo'burg and could not get enough of her delicious home made granola. The recipe is based on one from her favourite game lodge and makes enough to feed hungry guests and rangers for weeks. You can easily make half quantities but we know you'd regret it! Piled in to kilner jars, this granola makes a perfect edible Christmas gift too.
---
The rangers at Mlilwane Wildlife Sanctuary brought this versatile plant to our attention.
---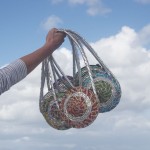 These Chip Bags are hand woven by a woman called Penane in Maun, Botswana. Her daughter called Onalenna (which means 'I am with her') and friends collect discarded chip packets and sweetie wrappers (this is what gives the bags their futuristic shine) and Penane expertly recycles these by weaving them with reeds to make the bags. They belong to the tribe called Okavango Hambukushu.
---